Roger's Gardens Home Boutique & Nursery
If you live in Orange County, you've probably heard of Roger's Gardens. Located in Newport Beach, California, Roger's Gardens is famous for its luxurious nursery, as well as its Halloween and Christmas decoration boutiques.
So beautiful in fact, that it has become quite a tourist destination over the years for people traveling in and out of Southern California. This home and garden store is perfect for infusing your home with creative indoor and outdoor plants and other decorations. Roger's Gardens has an abundance of flowers, foliage, fruit trees, fountains, pottery, fine home furnishings, and collectibles.
At the heart of Roger's Gardens are the gardens themselves. You and your family can take a stroll through the winding trails and experience a vast array of beautiful plants. This is truly a special place for botanical lovers, both new and experienced.
Most exciting is their annual Christmas Boutique. Filled to the brim with gorgeous Holiday ornaments, decorations, trees, lights, wreaths, gifts, and everything in between, there is truly something unique and special about what Roger's Gardens has to offer. While visiting the store in person is an experience in and of itself, this year, they are making their exclusive boutique available to purchase online.
You can take an immersive virtual tour of their Christmas Boutique at the bottom of the page at this link.
Roger's Gardens Environmental Commitments
"As stewards of the Earth, both in thought and practice, we believe serving the community with an unparalleled selection of nursery and home décor items should not come at the price of the environment. We've adopted a green approach to running our business, demonstrating our commitment to the environment and allow us to become a "green" gardening leader.
Our comprehensive sustainability programs range from how we generate and use our energy sources, to how we manage our water use. We take pride in implementing an active approach to preserving California's environment and positively influencing the green habits of our loyal customers." – rogersgardens.com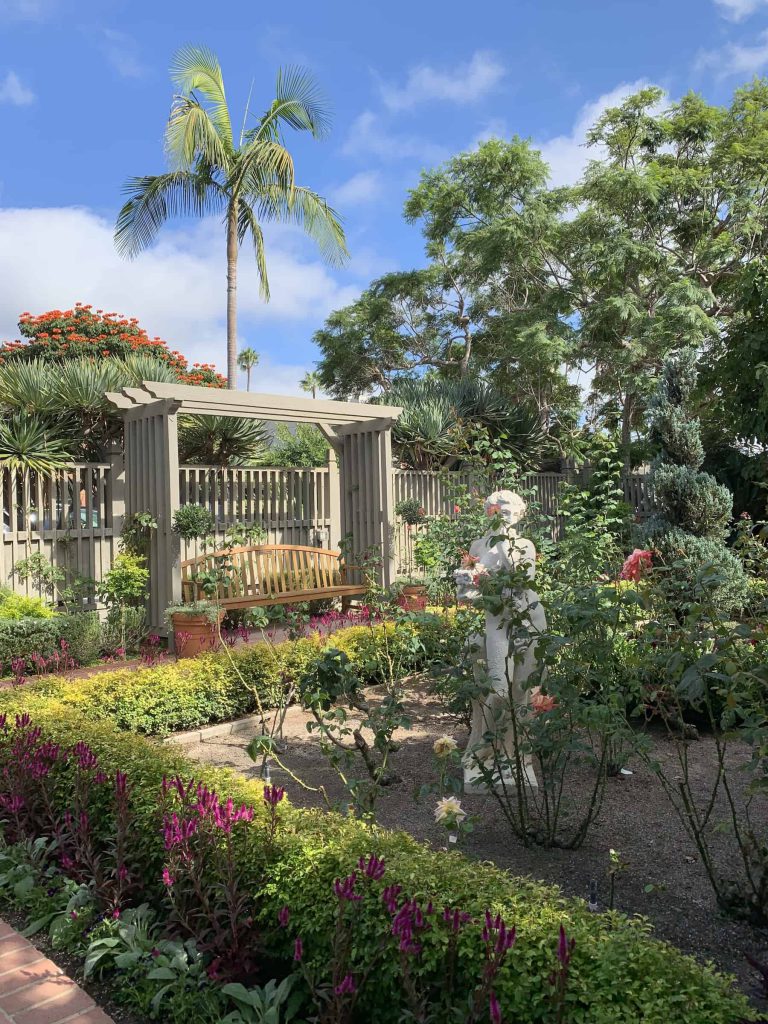 The History of Roger's Gardens
For over 50 years, Roger's Gardens has been a staple in Orange County culture. The original garden center was opened in 1965 by Roger McKinnon and was originally located in Costa Mesa.
In 1970, the business was bought by a friend (Gavin Herbert Sr.), and in 1975 the garden center was moved to Corona del Mar where it then flourished.
Originally, color bowls and original designs were the focus, like hanging baskets, seasonal color containers, and the like. It has since grown and evolved into so much more.
Owner Gavin Herbert Sr. developed connections with some of Orange County's elite, such as President Richard Nixon, Ronald Reagan, John Wayne, and Disney. This led to the acquisition of the 'Original Disneyland Bandstand' Gazebo from Disneyland which was then moved to Roger's Gardens. Every Christmas, Santa would come to the bandstand and listen to children's holiday wishes. It has since been converted into a beautiful part of the Farmhouse, which is the connected farm-to-table restaurant on the property.
Now, Gavin Herbert Jr., the son of Gavin Herbert Sr., is the President of Roger's Gardens and (pre-pandemic) is home to over 100 employees, weekly events, and workshops. It even hosts multiple event installations, weddings, and corporate events.
Under his helm, the ever-growing collection of high-quality home decor products has flourished and evolved to even offer collectibles, gourmet foods, artisan collections, outdoor furnishings, fresh florals, and more!
If you want to learn even more about Roger's Gardens, visit their website!
Open During COVID-19
Roger's Gardens are located at 2301 San Joaquin Hills Rd, Corona Del Mar, CA 92625.
To protect the health of everyone, they require guests to wear safety masks and social distancing. As of right now (Winter 2020), the gardens are not a gathering place or to be used for family outings, and they recommend groups no larger than 2. Their nursery, gallery, and garden rooms are for safe-service shopping only, but both online ordering and curbside pickup options are available.
Moving to or within Orange County?
At our California moving company, Student Movers takes the stress right out of moving!  Our trusted movers are well educated, college or postgraduate students with a real knack for moving (hence the name!). We have won countless Super Service Awards from Angie's List for our professional, friendly, same day moving services.
Every move is planned according to your individual needs and we ensure that your precious items are in safe, capable hands! Whether your job is large or small, home or office, we are the perfect California moving company to get your boxes packed, loaded up, and on your way to your new destination!